Aviso de aviso al cliente - Actualización del coronavirus de China - 28 de febrero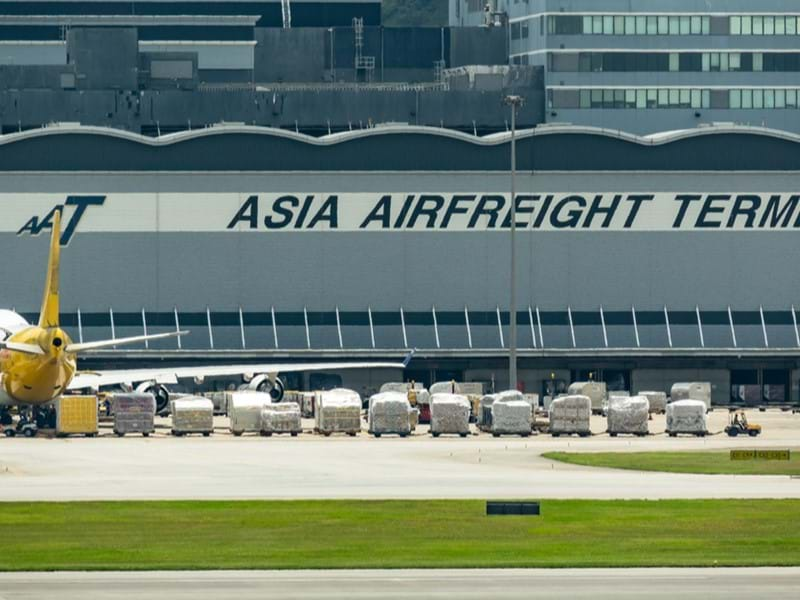 Customer Update – 28th February
As the global coronavirus situation continues to develop, we will also include updates and information from the SEKO Korean office, as well as, Greater China. 
Please be assured that staff safety is still of the utmost importance at SEKO, and while all offices and warehouses are up and running, every member of the staff across Hong Kong and China have been given a one months supply of face masks to ensure employee health and safety.
Korea
SEKO Korea has a contingency plan and are prepared for all possible scenarios to ensure our valued clients a continued level of service. In the event that SEKO Korea staff has to work from home, all employees have remote access to ensure that operation continues to run smoothly.
Korean Air Freight Capacity
Air freight capacity out of Korea is currently tight, and we expect more space issues and a continued increase in rates as airlines pull their services out of Korea. This includes Delta and Air Canada, who have temporarily reduced the number of flights between the US, Canada and Seoul. Other airlines such as Korean, Asiana Air and United Airlines are discussing internally whether to reduce the number of passenger flights. Cargo flights have not yet been effected.
The Korean government has just announced that face mask manufacturers will be restricted to exporting less than 10 percent of their production per day due to the emergency adjustment of mask and hand sanitizer.  
Air freight demand out of Korea to Europe and the US is still expected to increase, and we are currently expecting to experience capacity issues along with an increase in air freight rates. We recommend clients to communicate with their local SEKO representative and book space ahead of time to ensure as little disruption to supply chains as possible.
Korean Ocean Freight Capacity
Currently SEKO Korea is not experiencing any space issues but, due to schedule changes out of China, most carriers have void sailings. There is currently serious port congestion and delays due to the fact that containers heading to China are stuck in Busan port causing additional delays because ships are unable to reach the port. We are expecting the situation to worsen in March as the factories in China begin running at full capacity again. Factories sourcing raw materials from China are experiencing delays in production.
Greater China
The situation remains much the same in China and Hong Kong, with nearly all passenger aircrafts removed from China service, and ocean carriers having withdrawn more than 1.67teu of export capacity from China since the Lunar New Year holiday. Experts are warning businesses to prepare for a significant spike in freight rates once economic activity in China picks up again, as more workers continue to return to factories across China.
Greater China Air Freight Capacity
Current air freight activity mostly involves imports of medical and hygiene supplies being rushed to China on dedicated freighters. SEKO's Chief Growth Officer, Brian Bourke spoke with Freight Waves saying "We are seeing a capacity crunch for both outbound and inbound, but we're moving more relief items and medical supplies into China at the moment."
Around 70 airlines have canceled all international flights to mainland China, and an additional 50 have curtailed operations; resulting in an 80% reduction in foreign airline capacity and a 40% reduction by Chinese airlines.
American Airlines and United Airlines have suspended services to China and Hong Kong until late April, while Air Canada, British Airways and Finnair extended flight suspensions to mainland China until late March and cut additional flights to Hong Kong. We are advising clients to anticipate one to two days of extra transit time and an increase in rates from mid-March to late April as built-up demand from China and Hong Kong to Europe and the U.S. outpaces available capacity, and shipments that rode in passenger bellies look for a home on dedicated freighters.
Greater China Ocean Freight Capacity
Booking trends from the SEKO China and Hong Kong offices are showing that demand is beginning to pick up, but carriers are still reporting additional blank sailings (see the latest update on the Far East Westbound lane). Carriers are implementing a GRI from 1st March and we are still expecting to see space start to congest from Week 11.
New bookings to and from all ports in Hubei province including Wuhan are still suspended. Other offices throughout China have staff available either on-site or via remote access to ensure operations continue to run smoothly throughout this period and to take bookings for future shipments.
The situation is still extremely fluid, but please be assured that the SEKO team is doing all we can for our clients in these difficult times, including blocking additional premium space in advance, as well as, the Sea-Air option we are now also recommending
Rail-Air as an alternative solution, given the capacity issues predicted in the coming months.  This involves rail freighting cargo from China into Europe, via Poland and air freighting onward to the UK and USA.  More detailed service and transit time information will be provided early next week.
The SEKO Greater China team is recommending Sea-Air service as an alternative solution to both air freight and ocean freight, as a blend of rapid ocean and premium air legs, with a choice of strategically located hubs, to provide the faster transit times at lower costs. 
Please contact your local SEKO representative or email us for more information.
SEKO China & Hong Kong Office Open Dates & Status:
As this is a rapidly changing situation, we have updated our site opening date and status list to a traffic light system to provide clarity and additional insight as more information unfolds.
Green = Open, Yellow = Pending, Red = Closed.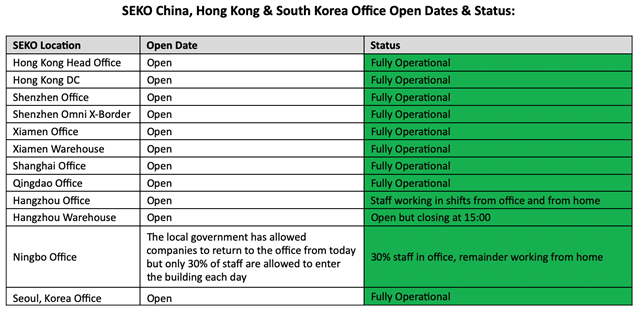 Please click here for more information on how to stay safe.
¿QUIERES SABER MÁS?
Todo lo que hacemos está diseñado para facilitar la vida de nuestros clientes, ayudándolos a desarrollar y mantener excelentes relaciones con sus propios clientes. Déjanos saber a cuáles retos comerciales te enfrentas y veremos qué podemos hacer para ayudarte.